Base viva (simple living) i kon a numa de vari vole uben go-i make e base a si-uno viva-moda. Di i kon, go demo, en-i meno a ave, de-i refere komun sama mini-moda, u en-i ma a ego-sufi-neso. Base viva i kan e de-i savi sama man en-e joli kon ke si i ave, en loke de ke si i vole.
Tari
[
]
Relijon an santi
[
]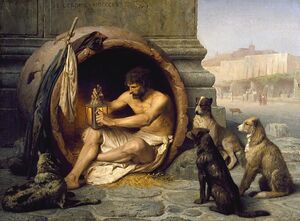 Mui de relijon an santi o more i apojo a base viva-moda.

Jesu i de vive a base viva. Si i de dire a si sige-man: "I toma e nulo go si safari pero baton -no pan, no sako, no mone in si-ale BELTS- ma i ropa a open-sapato e i no ropa a duo TUNICS".
Jesus is said to have lived a simple life. He is said to have encouraged his disciples "to take nothing for their journey except a staff—no bread, no bag, no money in their belts—but to wear sandals and not put on two tunics."
Mui impotan relijon man, sama Benedicto de Nursia, Francis de Assisi, Henry David Thoreau, Leo Tolstoi, Rabindranath Tagore, Albert Schweitzer an Mahatma Gandhi, i de dire ke santi INSPIRATION i de lida a si-ale go base viva.
Similar to Jesus' statement, many notable religious individuals, such as Benedict of Nursia, Francis of Assisi, Henry David Thoreau, Leo Tolstoy, Rabindranath Tagore, Albert Schweitzer, and Mahatma Gandhi, have claimed that spiritual inspiration led them to a simple living lifestyle.
Tasauf-relijon en Muslim mundo i de apara an i de develop sama saketa an osura more, sama reaki go mundo-neso de Umajad an Abasid sosia.
Sufism in the Muslim world emerged and grew as a mystical and hidden tradition, in reaction to "the worldliness of Umayyad and Abassid societies".
Tasauf-relijon i de ADOPT e afa i de develop en limi de Muslim lan.
Sufism was adopted and then grew particularly in the frontier areas of Islamic states.
Tasauf-man i de reo en difuse de Islam entre 10 e 19 sento-ano.
Sufis were highly influential in spreading Islam between the 10th and 19th centuries.
Filoso-man de 18 sento-ano Frans Luse-move Jean-Jacques Rousseau i de puja a base jalan de viva en mui de si note, besonde en du note: Pale de seni an (1750) an Pale de no-egala-neso (1754).
The 18th-century French Enlightenment philosopher Jean-Jacques Rousseau strongly praised the simple way of life in many of his writings, especially in two books: Discourse on the Arts and Sciences (1750) and Discourse on Inequality (1754).
No-relijon an politi
[
]
Epicuro-filoso, de-i base en edu de filoso Epicuro, i de fiore entre sento-ano 4 an 3 a.K.
Epicureanism, based on the teachings of the Athens-based philosopher Epicurus, flourished from about the fourth century BC to the third century AD.
Epicuro-filoso i de m ira a viva sin duro sama ma bon jalan de joli, de-i make mebi de de-i pensa eleti.
Epicureanism upheld the untroubled life as the paradigm of happiness, made possible by carefully considered choices.

Epicuro de-i punto ke duro de-i make de i kipa a no-base viva-moda e mui sama joli de i sege a si.
Epicurus pointed out that troubles entailed by maintaining an extravagant lifestyle tend to outweigh the pleasure of partaking in it.
Si i de pensa ke o ke e nese go joli an viva i debe de-i kipa a mini.
He therefore concluded that what is necessary for happiness and life itself should be maintained to a minimum.
Henry David Thoreau i de defende a base viva en si note de-i nome Walden.
Henry David Thoreau advocated for a simple life on his book called "Walden".
En tempo de raja Victoria en Britan, Henry Stephens Salt, sige-man de Thoreau, i de popula a idea de "Fasile, a sano metodo de viva".
In Victorian Britain, Henry Stephens Salt, an admirer of Thoreau, popularised the idea of "Simplification, the saner method of living".
Ota Britan-man ke i de defende a base viva e de Edward Carpenter, William Morris an man de "Fellowship of the New Life".
Other British advocates of the simple life included Edward Carpenter, William Morris, and the members of the "Fellowship of the New Life".
Carpenter i de make popula a idea "Fasile Viva" (Simple Life) en si note Simplification of Life en si England's Ideal (1887).
Carpenter popularised the phrase the "Simple Life" in his essay Simplification of Life in his England's Ideal (1887).
Ekonomi-siensa-man Thorstein Veblen i de aviso anti vare-toma sosia kon Teoria de libera-tempo sosia-junta.
The Norwegian-American economist and sociologist Thorstein Veblen warned against the conspicuous consumption of the materialistic society with The Theory of the Leisure Class.
Moda de pensa en-i muta
[
]
Danny Dover, note-man de The Minimalist Mindset i dire ke idea e jusa pensa, pero i uti da idea en mi-ale ego viva e ke go make a si a more.
Danny Dover, author of The Minimalist Mindset, states that ideas are just thoughts, but implementing and acting on these ideas in our own lives is what will make it habitual.
Leo Babauta i keredo en deteki a bela an joli en meno. Di a idea ke "ma e ma bon" e no-dereka.
Leo Babauta believes finding beauty and joy in less. This is the idea that "more is better" is wrong.
Mini-filoso i keredo ke kalite e ma bon sama mui kosa.
Minimalism believes that quality is better than quantity.
Si i dire ke mi-ale i debe valu a kosa ke i make a ni e joli.
It says that we should value things that make us happy.
Uben
[
]
En-i mini a vare-toma, labora-tempo an ave
[
]
Base-neso i boba unda go duo paso: I jagen a nese kosa. I toma eki a kipa. Leo Babauta
Tu i ave gana en viva ven ale ke tu i vole vere a solo ke tu i nese vere. Vernon Howard
Some popula i uben a base vivi en-i mini a vare-toma. En-i bajo a vare-toma i go make-pasa ma-mebi a meno ego debe, en-i lase a ma pulasi-neso an base-neso en si-uno viva. Via-i unda a paga en vare an ato, tempo de-i pasa en-i gana a mone i kan e de-i bajo. Tempo de-i save i kan e de-i uti sige a ota interesa, u i ade a ota via-i tempo-dona. Some i kan uti a an-an libera tempo go-i ma-bon a si kalite de viva, go demo, en-i sige a make-tenden ato sama seni an mano-make. En-i develo a separa de mone i ave make-pasa a some man, sama Suelo an Mark Boyle, go-i viva kon nulo mone.
Ego-ereki-neso en-i ma-mega
[
]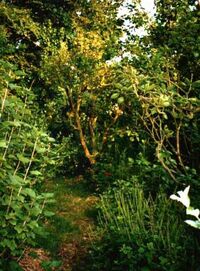 En-i pensa gen en teki
[
]
En-i make e base a manja-eleti
[
]
Politi an ato-tenden
[
]
Environ-apojo
[
]
Environ-apojo de-i base de base viva, sama HARMONY con natura es liga kon base viva-moda.
Environmentalism is inspired by simple living, as harmony with nature is intrinsically dependent on a simple lifestyle.
Apojo de base-neso de-i make de Midori politi-junta de-i base en meno uti de natura-vare e meno reo en environ.
The Greens' support for simplicity is based on the reduction in natural resource usage and environmental impact.
Di idea de-i dire en "midori san-kona" de Ernest Callenbach: environ-siensa, pove-filoso an sano".
This concept is said in Ernest Callenbach's "green triangle" of ecology, frugality and health.
Mui same mira-punto evita a relation con midori politi sama duka a base-neso, tamen, e defende a jalan de midori no-raja-filoso ke tenta i sige di ide en ma mini environ.
Many with similar views avoid involvement even with green politics as compromising simplicity, however, and advocate forms of green anarchism that attempt to implement these principles at a smaller scale.
Dipa environ-siensa, keredo ke mundo no i esi sama vare go de-i libera uti de man, i sujesi a kipa de savaje, regula de man popula an base viva.
Deep ecology, a belief that the world does not exist as a resource to be freely exploited by humans, proposes wilderness preservation, human population control and simple living.
Anti-gera
[
]
Relate de ekonomi develo an gera, ven de-i bata go natura an man vare, de-i mira a bon rason go apojo a base viva-moda.
The alleged relationship between economic growth and war, when fought for natural and human resources, is considered a good reason for promoting a simple living lifestyle.
Anti go gera i ave lida a pase apojo-man, sama Ammon Hennacy an Ellen Thomas, go i jalan de anti-tarifa.
Opposition to war has led peace activists, such as Ammon Hennacy and Ellen Thomas, to a form of tax resistance.
Si-ale i gana a meno mone go no i paga a tarifa en-i viva a base viva-moda.
They make less money not to pay taxes by living a simple lifestyle.
Si-ale i pensa ke si-ale gove i make a no-dereka u ruina ato sama gera, an i paga a tarifa i apojo di ato.
They believe that their government is engaged in immoral or destructive activities such as war, and paying taxes supports these activities.
Ekonomi-siensa
[
]
I mira an
[
]
Ahimsa

Anti-vare-toma-filoso

(Anti-consumerism)

Buda-relijon ekonomi-siensa

Kerusa no-raja-filoso

Dipa environ-siensa

Epikuro-filoso

Pu

(Dao-filoso)

Mini-kasa move
Refere-seri
[
]
Base viva
| | |
| --- | --- |
| Uben | Barter • Cord-cutting • DIY ethic • Downshifting • Dry toilet • Fasting • Forest gardening • Freeganism • Frugality • Gift economy • Intentional community • Local currency • Low-impact development • No frills • Off-the-grid • Permaculture • Regift • Sattvic diet • Self-sufficiency • Subsistence agriculture • Sustainable living • Sustainable sanitation • Veganism • Vegetarianism • War tax resistance • WWOOF |
| Relijon an santi | Amish • Aparigraha • Asceticism • Cynicism • Detachment • Distributism • Jesu-relijon • Mendicant • Mindfulness • Monasticism • Move de Tolstoi • New Monasticism • Plain dress • Plain people • Quakers • Rastafari • Temperance • Testimony of simplicity • Twelve Tribes communities |
| No-relijon move | Back-to-the-land • Car-free • Environmental • Hippie • Open Source Ecology • Slow • Small house • Tiny house • Transition town |
| Mira-merite note-man | Wendell Berry • Ernest Callenbach • G. K. Chesterton • Duane Elgin • Mahatma Gandhi • Richard Gregg • Tom Hodgkinson • Harlan Hubbard • Satish Kumar • Helen Nearing • Scott Nearing • Peace Pilgrim • Nick Rosen • Dugald Semple • E. F. Schumacher • George Skene Keith • Henry David Thoreau • Leo Tolstoy • Valluvar |
| Nun-dia sige-man | Mark Boyle • Rob Greenfield • Ted Kaczynski • Pentti Linkola • Jim Merkel • Peace Pilgrim • Suelo • Thomas • Varg Vikernes |
| Media | "Anekdote zur Senkung der Arbeitsmoral" • Escape from Affluenza • The Good Life • The Moon and the Sledgehammer • Mother Earth News • The Power of Half • Small Is Beautiful • Walden |
| Relate | Affluenza • Agrarianism • Amateurism • Anarcho-primitivism • Anti-consumerism • Appropriate technology • Bohemianism • Consumerism • Deep ecology • Degrowth • Ecological footprint • Food miles • Front Porch Republic • Green anarchism • The good life • Global warming • Hedonophobia • Intentional living • Itinerant • Low-technology • Nonviolence • Peak oil • Sustainability • Work–life balance |